May 10th, 2017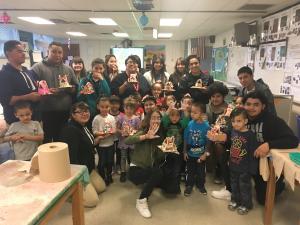 Gingerbread Houses to Build Community
Amy Brown
Mastiff Studios

How can you build trust and community in a school easily? As the art teacher in a small school district, I utilize creation. In the picture, you will see a group of preschoolers getting help from the "big kids" in the high school to make their own gingerbread style homes. The creation of these homes has become a tradition at my school. The preschool kids have no idea what is going to happen, but the high school art students as me every year when the day will be.
If you are interested in trying this in your school, I have some tips and tricks to make this day go smoothly and be a positive experience for everyone involved. As the high school art teacher, you will need to communicate what you want to do. Sometimes staff members are resistant to anything that may throw off their groove, but over the years, I have discovered preschool and kinder are always up for a trip to the art room. I firmly suggest doing this in your art room so you can control the mess.
I would suggest scoping out your teacher(s) to work with in early fall. If you wait too long, planning becomes a logistical nightmare because high school students will need to build the house forms to decorate. I have recruited the art club for construction for years, but I have also given this job to a special student. In the past, we created the houses out of 6x6" cardboard pieces. These were really nice to work on especially when they were glued to a pop flat. At that time, there were only about twenty-five to thirty kids to work with, and they were broken into small groups. After I changed school districts, my new school which is a small pk-12 public school, serves about seventy preschool students. The cardboard method simply took too long to create all of the houses. My awesome problem solving art students tried a variety of different things, but the unanimous choice based upon building time, stability, and overall gingerbread look was the graham cracker house. The houses are hot glued together and then glued to a piece of cardboard. After coming up with a plan and assembling the houses, I always make sure we have extra because inevitably a house will break, fall apart, get dropped, or tragically flooded by a runaway water bottle.
About two weeks out, the preschool teachers send home notes to parents to bring in candy, frosting, marshmallow pine trees, etc. The day of the event, I make sure that my students know what they will be doing, cover a few tables with paper from the paper roll (this will make clean-up much easier), put decorating equipment out, and then let the games begin. When they preschoolers come in, I match each child with a teen to ensure that no one is left out. The high school student makes sure that the house goes together according to the vision the preschool has. Sometimes art club makes a ceramic ornament for the kids to decorate or creates multi-colored crayons in decorative shapes for the houses. I'm not sure if we will do the crayons again. One confused preschooler took a big waxy bite.
When the houses are done, each youngster is escorted back to class with their big buddy. This way there is a much lower chance of the house meeting the ground before he or she even gets to show it off. The preschoolers and teens have ear to ear grins, the room smells amazing, and clean-up is easy because I make sure almost everything we use is disposable. I just roll the paper up and throw it in the trash. Clean up takes about ten minutes, and all that is left by the end of school day are photos of a great experience.